Dreambody
Roxanna Lewis conceived and choreographed the ground-breaking work, "Dreambody", originally performed by the Infinity Dance Theatre based in NYC - A non-traditional dance company for dancers with and without disabilities. A work like none other in the world - astonishing beauty and power, Dreambody epitomizes the eternal strength and beauty of every woman, challenging fears and pushing beyond the limits of both performers and audiences. The choreography triumphs over stereotypes and limitations. One of the dancers, Kitty Lunn, was paraplegic yet dared to achieve new dynamic partnering and a fusion of dance techniques with co-performers Roxanna [Young] Lewis and Sonja Perreten, who were 20-30 years her junior.
The original score was composed by grammy award-winning composer and frame drum virtuoso Glen Velez who created a cathartic 7-part musical exploration of the ancient chakra system.
The nine-month creative process required courage, unwavering trust and rigorous training for all three dancers to master tailored partnering, cross cultural dance techniques, and sign language to perform the 34-minute journey through the chakra system redefining the ideals of the human body, beauty, dance, and Life itself.
Dreambody toured throughout the US with notable performances at the Kennedy Center, Lincoln Center, in Italy, featured in news stories around the world, re-mounted off-Broadway at the renowned Judson Memorial Church and archived in the esteemed Jerome Robbins Archive of the Recorded Moving Image at Lincoln Center, NYC.
"Dreambody, a groundbreaking piece…a work of astonishing beauty and power. Inspired by movements of yoga, incorporating elements of several schools of modern and African dance takes the audience on a 34-minute journey through the Hindu system of energy centers known as chakras raising issues of body image and sexuality…"
-New Mobility Magazine
Media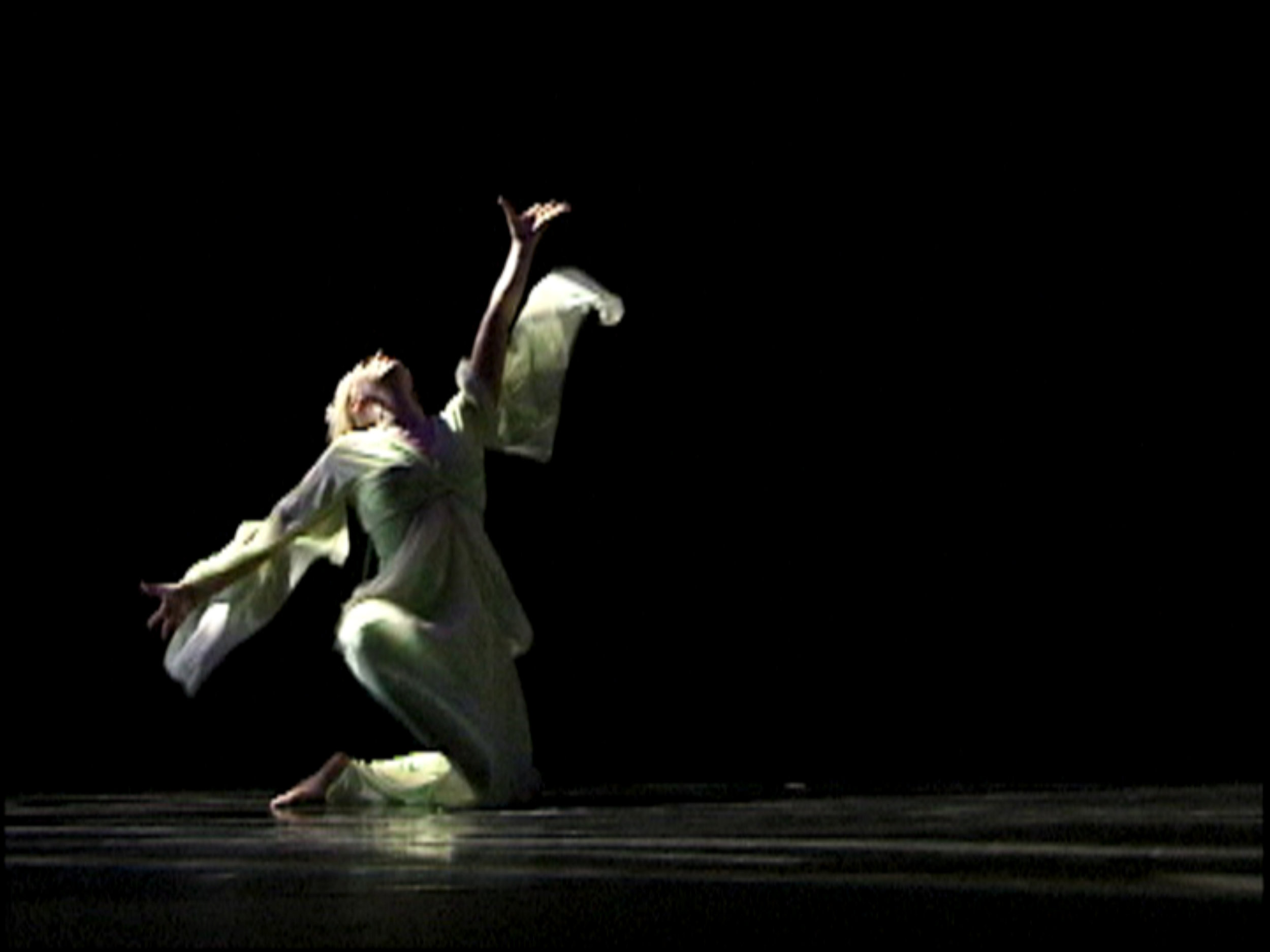 PRESS - FROM HERE TO INFINITY
By Laura Kaminker
New York dance studio: polished wooden floors, three walls of ballet barres, one wall of mirrors. On the floor, three dancers, all women, move in a series of motions at once muscular and fluid, their bodies sinewy and supple, sexy and strong. If you watch closely, you will notice that the dancer with the red hair is older than the other two. If you look much closer, you might discern that the legs of the redheaded dancer don't move on their own. Which is not to say they don't move.
That dancer is Kitty Lunn, and the dance is Dreambody, a groundbreaking piece performed by Lunn, Sonja Perreten and choreographer Roxanna Young [Lewis], all members of Infinity Dance Theatre. Dreambody has seven movements, and it is not until the end of the third movement that the audience sees Lunn's wheelchair.
Expanded Boundaries
Dreambody is a work of astonishing beauty and power. Inspired by the movements of yoga, incorporating elements of several schools of modern and African dance, Dreambody takes the audience on a 34-minute journey through the Hindu system of energy centers known as chakras.
Roxanna Young [Lewis], Dreambody's choreographer and now a member of Infinity, recalls Lunn asking her to create a piece that "would push the envelope socially, would give her something no one had ever seen before and would use her facilities as a dancer in a way that was brand new to her." Even with that mandate, Lunn was shocked at what Young [Lewis] came up with.
Lunn, the only dancer in the piece who has a disability, is out of her chair for at least two-thirds of the dance. She performs seated cartwheels by grasping her own ankles. She does handstands, supported by the other dancers. She dances on Sonja Perreten's back, as Perreten perches on the wheelchair and appears to swim across the room. At times the chair seems like a fourth dancer, rounded and graceful, almost selfpropelled. Other times, the chair becomes a fantastical multi-limbed creature as two or all three of the women balance on and around it.
During Dreambody, each dancer has a solo while the others either provide counterpoint or leave the stage. Dancing in her chair, Lunn's soft fluidity offsets Young [Lewis] and Perreten's sharp angularity as their bodies contort into intricate yoga-like positions. On a taped voice-over, Lunn recites "He Wishes For The Cloths Of Heaven," a poem by W.B. Yeats. As Young [Lewis] and Perreten dance behind her, Lunn signs the words in ASL, her arms and hands giving the poem shape and flight. None of this came easily.
Although Lunn had some modern dance experience before her injury, working with Martha Graham, she had been primarily a classical ballerina and her wheelchair dancing has focused mainly on transposing ballet technique to seated dance. "I didn't know if I'd ever be able to adequately perform this style," Lunn says. "It's about as far away from Sugar Plum Fairy as you can get."
The work raised issues of body image and sexuality. In Dreambody, Young [Lewis], 31, Perreten, 24, and Lunn, 49, wear hand-painted unitards, colorful second skins. "Although I am very comfortable with my body now," say Lunn, "the Dreambody costume accentuates everything, warts and all. It was very scary for me, at my age, dancing beside two young women in the prime of their lives, to be so physically vulnerable, so exposed."
But for Lunn, the issue that loomed above all was allowing her dance partners to take her out of her chair; to trust them, literally, with her life. During the dance, Lunn often moves her legs with her own hands, and the other dancers move her body with their own motions. This "shared technique" requires precise timing, and enormous amount of strength and balance, and boundless mutual trust.
Creating Dreambody was a profound journey for all three women. "Neither Roxanna nor Sonja know anything about paraplegia," says Lunn. "They didn't understand how still paralyzed is." When they began working together, the three were pleasantly acquainted, but had nowhere near the bond the work would ultimately required of them.
"Bizarre and disorienting" is how Lunn describes beginning the process. "I'm on the floor, but I can't feel the floor. When Sonja slaps by leg to make me spin, I'm not aware of it until the turn gets up to my torso. It took a while for me to get my bearings."
There were moments Lunn describes as "beyond frightening"-the handstand, for example. "The only thing I can feel are my palms touching the floor," says Lunn. "At first, I had no idea who was controlling my upper body. Where were my legs? Where was my pelvis? And how can I learn to be comfortable with this?" To develop the necessary arm and back strength, Lunn took classes in specific modern dance forms. As she built herself up and studied technique, Young and Perreten learned more about working with Lunn's specific capabilities.
Young [Lewis] remember Lunn calling to her during rehearsal, "Roxanna, I'm paralyzed, remember?" "And I'd say, yes, what about it?" laughs Young [Lewis]. "Kitty would look at me and sign and say 'You're crazy.'" The work pushed Lunn to places she never thought she could go. "But," Young [Lewis] emphasizes, "This isn't about Superwoman. It takes a tremendous amount of support. We can only go so far on our own. "How does Lunn feel about Dreambody now? "Fabulous," she says, beaming.